Articles
This article discusses the parameters that allow to customize the layout of the Ancillary Cost Statement for the lessee to your needs: 
- Letter Customization
- Texts
- Hide or show line items with no share
- Show previous period to lessees for comparison
Letter Customization
The usual parameters that apply to all letters in general also apply to the Ancillary Cost Statement. Examples are your logo, header and footer, facsimile signature.
Texts
Texts and titles can be defined on the first tab "Params" and will be applied to all statements. Besides that there is the option to change individual texts (green areas) on tab 4 "Letter Editor".
Merging Lease Contracts
Merging Lease Contracts is described here. 
Hide or show line items with no share
You can choose whether to show line items where the lease object has no shares. E.g. the line item cable tv for a parking lot is usually not displayed. In the Edit mode of the lease contract on the tab 'Details' the allocation shares are specified. If the value '0' (zero) ist provided the line item will show in the statement.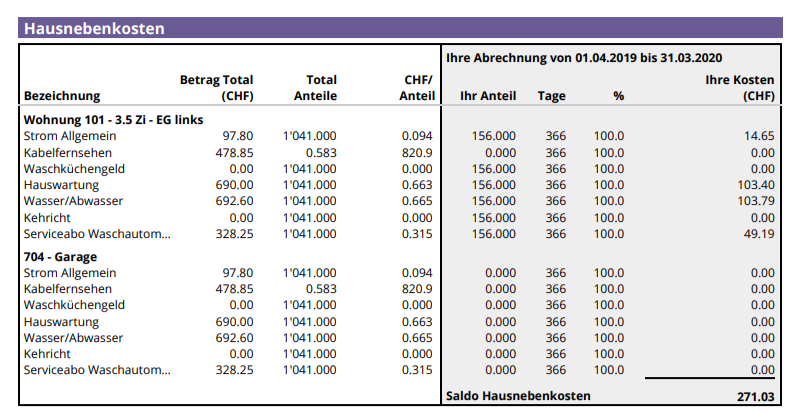 If you prefer to hide an item in the statement leave the share allocation field blank:

For example the setting above will result in showing "No shares" for the Garage, since all allocation share fields are blank: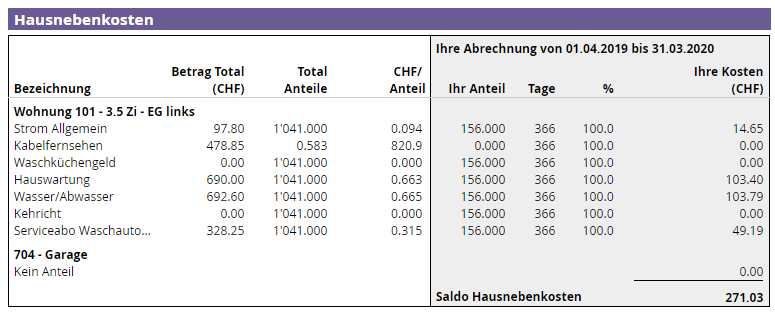 Show previous period to lessees for comparison
If the previous statement has been done with LIMMOBI you can choose to show the data of the previous statement for comparison. The option is available on the first tab "Params":



or simply the current period